Description
Clean Lines, Stylish Look
Modern Design
Give your home a stylishly integrated appearance. The modern design features minimalist flat doors with recessed handles that give a sleek and neat look to your kitchen, easily blending in with existing appliances and cabinetry.
Opens Right or Left
Reversible Door
Choose the direction that your refrigerator opens with a Reversible Door. It is delivered as right-hand opening door, but can be reversed simply by changing the hinges over, without leaving any unsightly holes. So it fits almost anywhere and is always ideal for your preferred kitchen layout.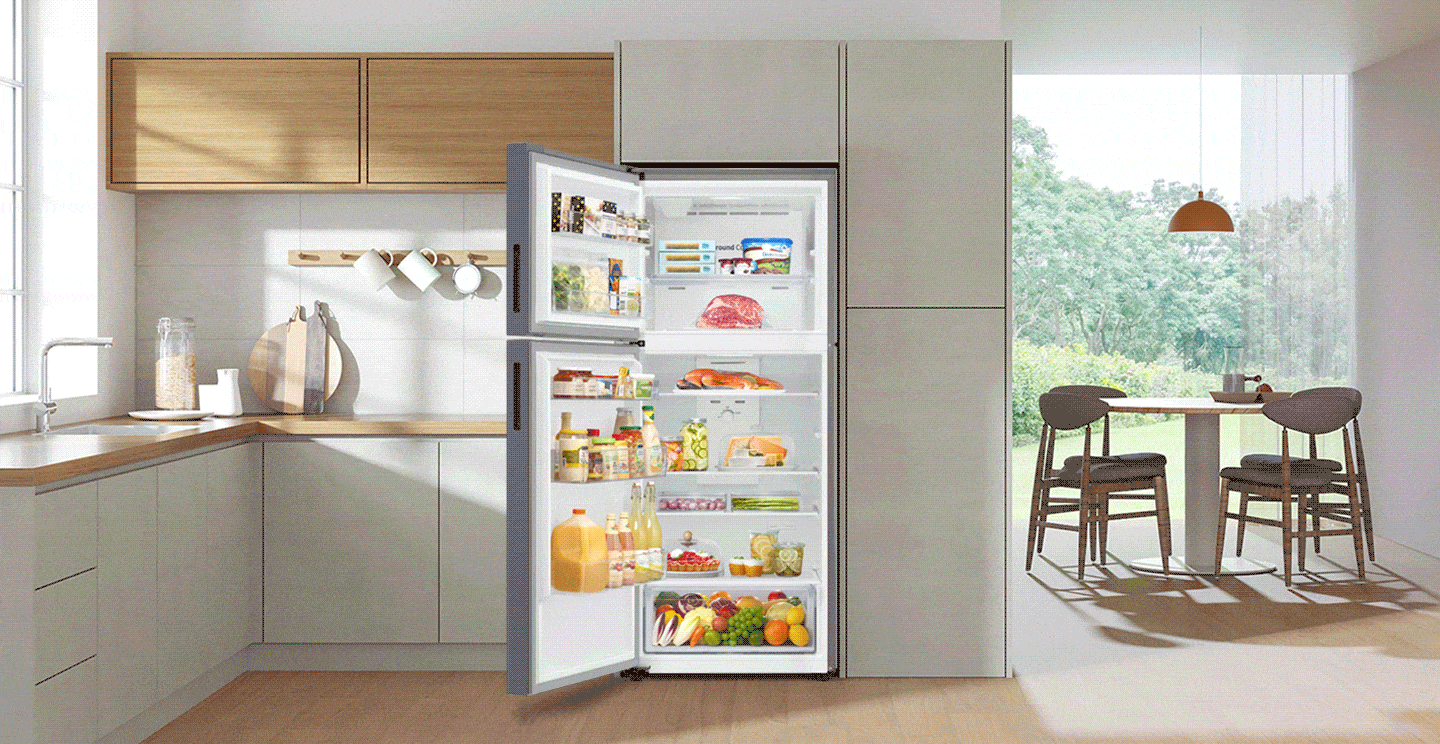 Smart and durable
Digital Inverter Technology
Enjoy greater energy efficiency and durability with a continually optimized performance. The Digital Inverter Compressor adjusts its speed in response to cooling demand. So it's much quieter, uses up to 50% less power* and is certified to work for 21 years**, backed up by a 10 year warranty***.
* Based on internal testing in accordance with the ISO 15502 standard.
** Awarded a 21 year durability certification by the Association for Electrical, Electronic & Information Technologies in Germany (Verband Deutscher Elektrotechniker – VDE). Actual lifespan may vary depending on the usage circumstances.
*** 10 year warranty is limited to the compressor only.
Cools evenly from corner to corner
All-Around Cooling
The All-Around Cooling system continually monitors any temperature fluctuation and cools evenly from corner to corner. Cold air is blown out through multiple vents on every shelf level to create a multi-directional airflow, so it maintains a constant temperature and food stays fresher for longer
Find ingredients more easily, and save space and money with LED lighting. It's slimmer, cooler and more power efficient than conventional lighting. Located on the top, it illuminates every corner with a softer, more comfortable light, ensuring better visibility, and creates more storage space.
Keep the whole family happy with quick grab and go beverages. A Gallon Guard makes it easy to store much bigger and taller items and bottles like milk, fruit juices, water, soda and condiments. The shelf offers easy access storage in the door for gallon bottles and has two extra rows for cans.
Delivery & Processing Delays Due to COVID-19!
Covid-19 Message | Some Orders May Be Impacted By Covid-19 Delays | Please Check Your Local Store For Updated Shipping Times | Delivery times are estimated and not guaranteed.
Buy Now, Pay Later!
Turn your purchase into easy monthly payments. No Interest, No Payment for 6 or 12 Months.